Blue Bay, Mahia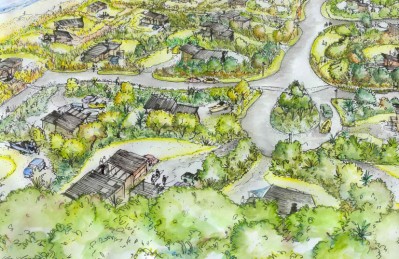 This development, the landscape component of which was completed in 2006, was sited on a retired camping ground and pine forest block. The concept involved the removal of the pines and restoration of the original dune landscape. Houses will be nestled into natural dune and vegetation on the foreshore properties and within more lush, coastal forest style planting for the inland properties. More than 25,000 native dune plants and coastal forest trees and shrubs were planted to define property boundaries, enclose the development and create natural privacy between each building site, and generally set the scene for an informal community- based beach holiday-style settlement.
In addition to the planting, distinctive built elements lend an informal semi-rustic coastal character to the development. A major element is the natural swale drainage system with no roadside drainage channel and minimal mountable kerbs used throughout. Lighting is distinctive, with timber grey stained posts and distinctive fixtures. Paths are casual sand tracks and exposed aggregate concrete which meander thru the plantings. Several dramatic and beautiful sculpures are located around the reserve areas, designed by celebrated local Mahia artist .
Design elements such as minimal fencing, shared walkway access to the beach, communal playground and shared ocean lookout decks are designed to encourage a community feel and interaction between neighbours.
There was considerable local opposition to this development by local Maori and others but the design team hope that as the extensive plantings develop the natural character of the site will surprise many and the objectors will realise the full extent of the efforts made to create a development which pays full respect to this beautiful area.