Farmhouse Back Yard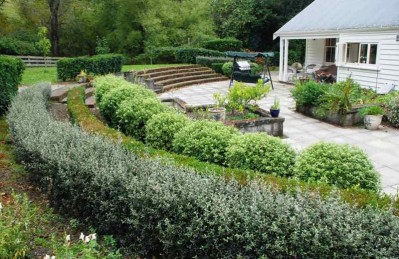 This lovely old farmhouse is surrounded with mature woodlands, a sheltered home paddock and a grove of ancient pear trees.
The design of the back courtyard opens up to this with wide, curving steps. This curve continues as hedging around the edge of the area to define the courtyard space yet retain views to the scene beyond.
Originally designed as a riding arena, the paddock above is still just a paddock but if the arena eventuates it will provide a good extension to this structured space.
Materials are rustic and simple, using materials which would have been used originally for homes of this era. The raised gardens are for veges and smaller fruit/citrus planting in keeping with traditional farmhouse back yards.