Meditteranean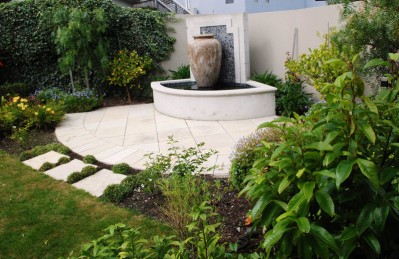 This garden is looked in on from all quarters by neighbouring houses and desperately needed privacy screening with planting. The owners love sitting outside and required a low-maintenance planting scheme which would give them green, fragrant and private surroundings. With Greek family origins, they wanted a distinctly classical Meditteranean feel and the area already had a ?courtyard garden? feel with the house and boundary walls creating a strong frame. The water-filled urn feature forms a dramatic classical focal point which effectively distracts the eye from the background houses over the wall. In time the Olive trees, Mexican Pepper trees and others will provide an effective, soft screen around the boundary. The plant palette is coping well with the gusty wind conditions and will continue to improve with age, although the owners are already delighted with the result and spend as much time as possible in their garden.
The clients say:
" We first heard about Rebecca by word of mouth from a client of hers who was extremely satisfied with her work. We phoned Rebecca and she came to our house. We gave her a brief of what we liked and didn?t like. She took photos and measurements and within a short space of time came back to us with various options.
We had a number of important meetings and she gave us a lot of wonderful ideas with regards to paving, colours and types of plants that would survive the elements with regards to where we live and garden layout to suit our requirements.
It all came together wonderfully well, we were very happy with the ideas and recommendations she put forward and in fact her overall attitude was refreshing. We would use her services again if we needed to."
Contractor: Red Tree Landscaping