Mount Vic Roof Garden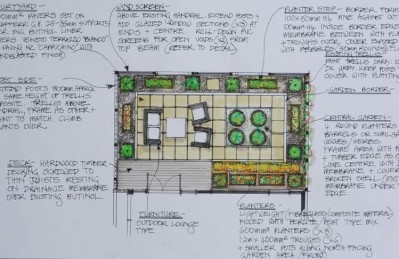 This rooftop concept design, yet to be implemented, is for a villa roof area opening from the upstairs master bedroom. The entire Butinol lining roof will be covered with a drainage membrane to protect the liner and provide free drainage over the deck. The pavers and planters will be supported by corner pedistals and the deck will rest on the drainage membrane rather than being fixed to the roof. A central vege garden is contained in wine barrels and sits on a bed of crushed shell, and all other peripheral planters sit a shallow timber-edged "trough" lined with beach pebbles.
The roof is at present too exposed to be pleasant for plants – or people! – and the design therefore includes a series of window screens around the north-facing edge with two open areas equipped with roll-down PVC screens for extreme weather events and to protect plants until they are established. An existing trellis screen along one side will be repeated opposite to complete the wind protection enclosure.