Tropical Pool, Otaihanga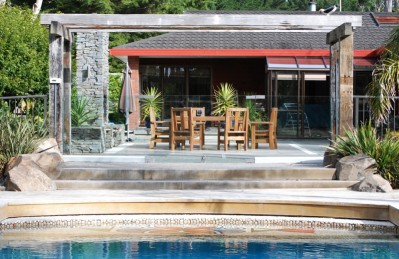 The owner of this rural property wanted a tropical holiday atmosphere for the new swimming pool and surrounding gardens and entertaining areas.
The paddock out in front of the house was set aside for the development and a large overgrown and leaking pond was unceremoniously removed along with a few shelterbelt trees which were blocking sun and light to the area.
The space was sheltered by surrounding trees, creating a microclimate suitable for the kind of palms etc which the client had his heart set on, but I was surprised how well these truly tropical species have established and grown. The palms and other lush-foliaged plants surround the pool and courtyard and create a real "tropical escape" atmosphere.
The new pool is framed by generous hardwood decking areas on 3 sides and the fourth side features a retained edge which drops away giving open views across the pool into the wooded field beyond. This wall, at 1.2 metres high, forms one part of the pool "fencing". Elsewhere the pool fence is hidden by planting or is glass (between the house and pool areas).
Adjacent to the house a generous courtyard, complete with outdoor fireplace, provides outdoor living and dining space for year-round use.
The pool is a large one and features a beautiful mosaic "beach" area in shallow water part way down the steps. This "Pacific Fish" was created by Spotty Dog Mosaics, Ellen Giggenbach, Eastbourne and it provides a spectacular entrance to the pool.
The pool shed is finished in traditional "Fale/Bure" style with a thatch roof and the north-facing end of the pool has a shadesail canopy, replacing the thatched-roofed poolhouse originally designed for this space. A spa pool is tucked into the lush planting at the far end of the pool.