Wave Deck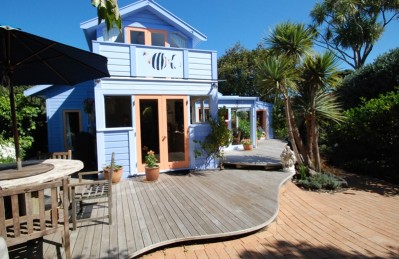 I include this old project in the portfolio only because I am so fond of it – it was my first paid job back in 1993! – and also because it illustrates boldly that decks don't have to be square! The clients were presented with two concepts, one being a regular square deck, and they bravely went for this option and have been enjoying it ever since. Although small, the spaces work well and create a variety of usable areas. The garden has hosted many a garden party, regular theatre performances and more recently rose to the occasion for a family wedding.
Their gorgeous little beachouse used to have views of the sea but these had been lost long ago as Eastbourne developed. The clients wanted to feel reconnected with the beach so I used driftwood for garden edging, coastal plants and sand-coloured pavers (unfortunately way back then these clay pavers were really all that was available on a reasonable budget – these days there are wonderful pavers with shell etc… I may try to talk them into a makeover…) But the real waterfront effect came with the decking which surrounds the back of the house. The little house, already full of character, now virtually seems to float due to the flowing forms and sense of movement created and the garden adds to the wonderful beach-house character
The client says:
?Rebecca originally designed our garden way back in the early 90s when our kids were 7 & 8. We loved her energy and creativeness from the start. She immediately clicked to the fact that we wanted something that fitted with our relaxed lifestyle by the beach. The curves were so right ? and when she produced plans that included the children?s guinea pigs hiding under the lemon tree we were completely sold!
We have loved this gorgeous garden that has gradually grown around over the years. We think it?s great all the year round. It?s a wonderful place to live in and to look at. It?s not large yet there are places to eat in, corners to sit in, a spa to soak in, veges to grow, flowers to enjoy, fruit to pick, paths to wander down and little secret places to discover.
Thanks, for giving us this Rebecca ? and for popping up recently with more ideas (artistic wood stacking, instantly rusted shed, telegraph prop for our oak tree) to help make it the perfect place for our daughter?s wedding.?