Arts and Crafts in Otaki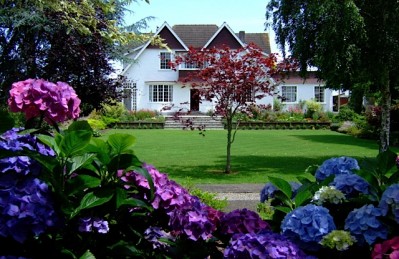 This magestic Arts and Crafts house has been lovingly restored by a dedicated couple from a virtually derelict state and now is a beautiful example of what can be done within the Arts and Crafts style. The garden was in a similar state of disrepair – a few lovely old trees and a nice set of steps in need of repair were the only things worth keeping. A concrete driveway completely surrounded the house.
The first issue was to get people out of their cars sooner and make the trip to the house worth the effort (although a service driveway was maintained to the back of the house). This involved restoring the steps and adding an arbour with beautiful framed views out into the garden on both sides.
There was no outdoor living so a few courtards were included around the house for family entertaining etc and to link the house with the expansive gardens and lawns. The wide curved terrace and extra-wide steps at the front of the house give a much-needed link to the front lawn and a dramatic yet simple symmetry to the front garden which reflects the curve of the drive/walkway beyond – the service driveway has been narrowed to double as a generous walking track circumnavigating the garden – and also creates a fun cycle track for the children!
The clients say:
"Rebecca designed our garden plan for our 1920?s Arts and Craft style house in Otaki. We feel she did a fantastic job of getting the feeling and scale right for a large, old English style house and garden. The style she has used for us in Otaki is reminiscent of Gertrude Jekyll, the great English landscape designer.
The beautiful sweeping, curved step with granite set edge, outside the front door, is a delight to sit at on a sunny Saturday morning, sipping away at a latte, whilst surveying the expansive lawn. The magnificent pergola and oversized pavers provide a grand entrance, lined with Dublin Bay, Graham Thomas and Gertrude Jekyll roses that is befitting of the special house that it is.
We are thrilled with Rebecca?s work, she is one of the most creative people we know, it is a joy to work with her on our garden projects"
Karin Won and Kar Yue Yeo