Waikanae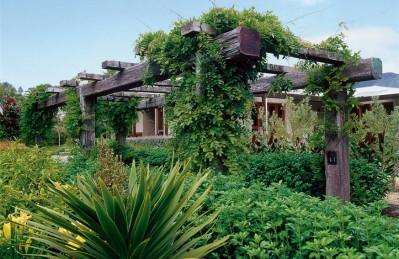 This redesign of an existing garden and pool was primarily concerned with improving the flow from the house out into the garden and creating a flexible range of outdoor living areas for family use and entertaining for large groups of friends. Previously the drive ran right through the garden next to the house – and cut the pool off from the garden. Also the house was about a metre off the ground and therefore felt isolated from the garden.
The clients fortunately agreed to take the important first steps of rerouting the driveway to the outside of the garden and raising the lawn to reduce the drop from floor level. Several generous sets of steps were included off the verandah and hedging around the base provides a soft yet defined edge. A large pergola provides semi-sheltered access from the parking area to the front door, and another pergola also defines the pool enclosure and provides a dramatic gateway to this area.
The client says:
?In 2001 I had a rather huge task in designing a garden around a lifestyle block that consisted of sand predominantly and a rather challenging climate with sea spray to boot. I met with a couple of different garden/landscape designers, but found Rebecca and her team very easy going and excited about the project which was infectious.
The result of the garden is testament to her design. I have had millions of compliments, and when I have needed more advice on different areas Rebecca has been very good at listening to what I want and always comes up with a superb idea or plan.
I cannot fault the way Rebecca works, it is professional and incredibly knowledgeable, with references to fabulous suppliers and a sense of conviction that once I embraced could not fault.
I confess I didn?t follow the plan completely and now 10 years on, I wished I had. I wished I had done the coloured concrete and the gorgeous big trough between the stables and the house, however the washing line…still remains elusive.
I whole heartedly recommend Rebecca. She has inspired me and made the enormous garden task fun. ENJOY!!?