State House "Gone Troppo"!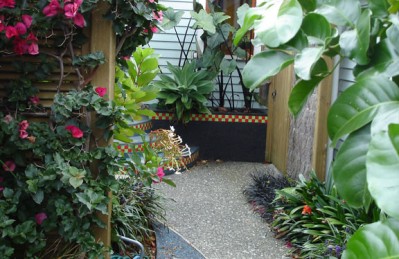 This bungalow was renovated in a unique style by the previous owners under the guidance and inspiration of architect
John Mills.
The garden takes its cue from the wonderfully quirky details on the house. A daring paint palette inside the house and interesting paving details outside add drama and colour to balance the predominantly green, highly textural planting scheme.
Sweeping forms in the paving, intercepted by large river boulders create a welcoming entranceway with intriguing glimpses to the colourful entrance steps and gardens beyond.
The garden has changed hands since it's inception but the new owner has embraced it's character with full enthusiasm and has made it her own, managing the development of the planting with great expertise and a wonderful eye for form, colour and texture. When this happens the designer can step back and just enjoy the developing scene!