Contemporary Country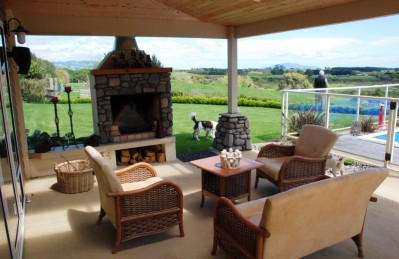 The brief for this project was to create a restful yet contemporary series of spaces around the house for relaxing and socialising. I was keen to ensure that this sat well within the rural scene and reflected where they were.
There was limited flat space so the pool and lawn were built out into the paddock with a large, curved retaining wall. The distance from guest parking and garages to the house was made into a pleasant garden walk with a large, semi-rustic pergola which is festooned with Wisteria to create a sheltered, leafy walk in summer and a more airy structure in winter. Located north of Otaki (with a lovely dry climate) this wasn't a major issue.
The pool sits on the edge of the garden with views over the lime citrus orchard below. Views to this orchard and the countryside beyond are kept open with just a small hedge along the top of the wall to define the curved edge.
The outdoor areas include a roofed courtyard and various other semi-covered spaces along the front of the house and these create a range of options for outdoor living depending on the weather, time of day and number of people etc.
More recently the clients have embarked on a new project behind the house with a large kitchen garden.