Drainage Ditch Transformed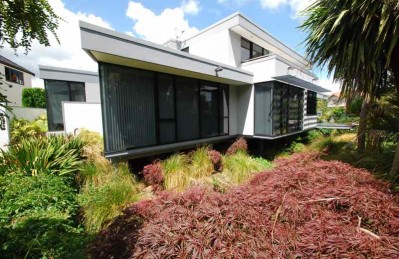 This spectacular and wonderful home, designed by architect Ron Sang from Auckland, was built overhanging an uninspiring drainage ditch. Ron saw the potential in it however and I was engaged to transform the garden into something which would make the most of this feature and generally create an appropriate setting for the house. Huge windows in the house make the garden a vital part of every view within the house.
The client loves dramatic plants with bold foliage and flower, particularly native plants, and these create the framework and the dramatic features. A couple of existing mature Nikau Palms certainly helped!
Ron Sang's beautiful bridge spans the ditch, with glass handrails making the most of the view to the planting below. The ditch runs into a culvert pipe at the end of the property and this is now festooned with Virginia Creeper, creating a dramatic autumn display. Seasonal colour is also provided by Clivias and Vireya Rhododendrons, Japanese Maples and by the Kowhai.
An informal pathway meanders along the opposite bank, allowing closer inspection of the fragrant plants and a nice opportunity to see the house from a variety of angles, all framed by lush planting.
The whole garden is now a rich tapestry of texture and colour. A couple of ducks have also become rather fond of this environment and have now made it their home, adding to the delight the client gets from her new garden.