Heart Of The Beachfront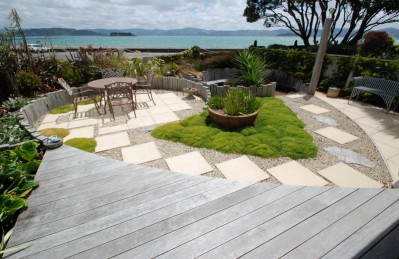 The owner of this beach-house is a very keen gardener and was keen to create a variety of spaces for plants and intimate areas for sitting within the gardens. The heart-shaped layout creates several small usable areas for sitting out in a variety of conditions/seasons etc and creates interesting spaces for planting. The garden has also spilt out onto the road reserve where it provides a wonderful feature at the end of this quiet street.
The client says:
"I had the house 'rearranged' for an indoor – outdoor flow, but outdoors was not cooperating. The garden had rather an old-fashioned look and the seafront I soon discovered, was not the place to grow a luscious lawn.
To me, the foundation of any good garden is the design, especially for a small one, which can be very unforgiving if the proportions are not just right. I didn't have the courage to attack this project on my own, so I turned to Rebecca for advice as I had seen her work locally and knew that I wouldn't get 'boring'!
As instructed, I collected samples from magazines and books so that Rebecca could assess what would suit me, my lifestyle and my personality. Once the 'flat' plan was drawn up Rebecca also met with my builder, who had agreed to take the project on. Together we translated the vision into builder speak.
The garden is a just a few years old now – I loved the design from the start and it improves with time. The small space provides me with several different areas including a sunken 'conversation pit' where I have privacy from passers-by and amazing protection from the prevailing northerly winds. The deck is a triumph for a small space – it reaches out into the garden in a curve that connects the house and carries the eye around the whole garden.
Working with Rebecca was a fun experience, she understood what I wanted, inspired confidence and is a true artist."
Builder: John Grinlinton – Maxcon Building Ltd. email: Maxconbuilding@xtra.co.nz