Historic Masterton Masterpiece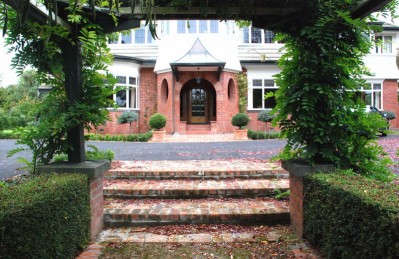 This absolutely gorgeous historic house was sitting in a pretty sad old garden which had tragic notes of 1950?s makeovers throughout. A kidney-shaped pool, asphalt driveway around three sides of the house and an under-sized tennis court dominated the scene, capped off by a grim row of large Yew trees up the drive. Several beautiful specimen trees remained, however, and a lovely old arbour sat over the disused entrance path.
The design creates a series of defined and structured spaces around the house to give dignity and a sense of arrival to the entrance area and a range of outdoor living areas to suit the seasons, time of day, etc. The grass tennis court has been replaced with a large formal lawn and peripheral gardens which allows it to still be used for casual games. There is a generous edible garden developed in the northern corner with a play area and sandpit also within this more informal space.
The client says:
"For this house Rebecca has created a garden that is a joy to stroll around in any season. It is structured and formal, but at the same time relaxed enough to be enjoyed by our four young children. Though expansive the gardens require surprisingly minimal upkeep. The landscaping provides great spaces for entertaining and is often enjoyed by our friends who come for a relaxing weekend from the city.
Rahiwi is the 4th property landscaping design that Rebecca of Earthwork has completed for us.
Each property has been of a completely different period and design, in different environments, with differing budgets. In each case Rebecca has produced stunning results that complement the style of the properties and fulfilled our purpose.
We like the way Rebecca takes on all aspects of what we want to achieve and takes detailed measurements of the properties. The plans she produces make it easy to visualise the end result.
We appreciate the fact we can question her on any aspects of the design and she is not afraid to be frank about things she feels strongly about. Rebecca is always ready to help out when you get a bit stuck on the implementation or want to tweak the design. She is also fun to work with.
With all properties people have approached us to complement us on our landscaping. We would recommend Rebecca of Earthwork to anyone."
Built by Kevin Oliver and the clients family.