Japanese Woodland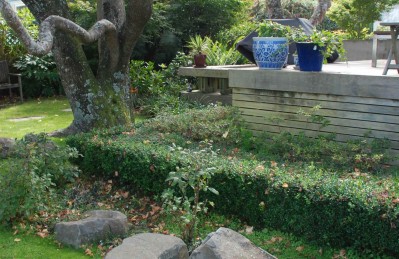 The beautiful mature trees in this garden set the scene for a Japanese style woodland garden and the client?s love and understanding of Japanese gardens and their attention to detail ensured the success of this project.
The entrance features a more formal Japanese garden with lantern, water bowl and traditional Japanese planting, with a stone path leading out into the main garden.
Boulders were carefully selected and located to provide sculptural interest and a balanced composition to the views from the main deck. A smaller deck down in the garden has a Japanese style pergola overhead. This leads the eye through to the end of the garden and provides a lovely spot to sit and enjoy the ever-changing planting.
The dramatic beauty of this garden is arresting in all seasons with the planting providing a constantly changing tapestry of colour, texture and light.
The clients, David and Ann Taylor, Lowry Bay, Wellington, say:
"We asked Rebecca to redesign our garden after an extensive renovation to the house. We wanted to introduce some Japanese influences to blend with established trees and other existing plantings and link the house and garden. Rebecca?s plan incorporated these elements and introduced new features which have enhanced the property. She was a pleasure to work with and very enthusiastic about our ideas. We are delighted with the result which complements the house and now have a lovely garden for all seasons."
Contractor: Hayes Landscaping