Mosaic Pool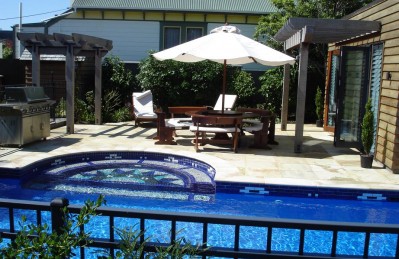 This pool and garden was of necessity located on a newly-acquired section on the south side of the house. The design needed to strengthen the linkages to the house and also re-orientate the area to the north. This was done with a new garage with a poolhouse attached and substantial planting which created a strong southern edge. The poolhouse faces northwest and also provides handy facilities – a bar, kitchen and casual lounge – and a ?2nd home? for the summer months.
Two matching pebble-and-tile mosaics create dramatic features in and out of the pool. The pool is a delicious deep, soft blue colour from the custom-made fibreglass lining and a waterline tile strip which further enhances the colour and is a feature in itself.
The whole pool area looks out over the fence and planting into the garden beyond which is an eclectic mix of flowering exotic colour and lush textural native species. An elevated playhouse looks out over the garden and is tucked amongst the planting.
Stage 2 for this property was to transform the adjacent section into a tennis court. As the house and pool areas all looked out over the court it was essential that it looked like part of the garden rather than the standard asphalt and netting scenario. Planting around the periphery makes the most of the limited space available and the netting fence has been designed specially to provide a series of climbing frames for the beautiful roses along the far fenceline.
A small japanese style garden creates an interesting feature area adjacent to the courtyard from the house and the stepping stone path through this area gives a nice route to the vege garden and service area beyond.