Moat House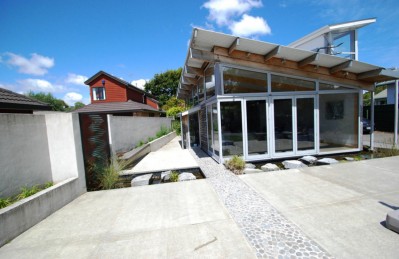 This exciting house – by Symbiosis Architects – with its moat, dramatic rooflines, tapered form and multiple glass walls and windows demanded a similarly dramatic garden design. However, whilst the house was beautifully designed and built, the landscaping was not really working that well and some problems with the leaking pond, lack of privacy and unused outdoor areas needed solving.
The decision was made to repair the moat – and at the same time transform it into a more visually effective feature. The moat was extended to meet the boundary wall and we recommended Wellington artist John Calvert be engaged to design a water feature for the wall. His copper and slumped glass work creates a dramatic yet delicate play with light and water as the water droplets fall and slide from one glass platform to the next. The water feature is also lit at night, creating a stunning focal point.
The stepping stones were reworked to provide better access from the house.
The deck over the moat to the front door was rebuilt to create a safer, more generous entry feel and this continues over the drive to the front gate as a boardwalk entranceway. This whole deck structure gradually widens to bring attention to the wedge-shaped structure underlying the clever design of the house. This tapered wedge continues through the house to reappear as the back garden deck, growing ever wider. Another architectural feature inside the house is a loose pebble strip which runs along one wall of the entrance hall.This is continued in essence outside in the courtyard with an inlaid mosaic pebble strip which follows the exterior wall and continues over the moat, creating a pebbled "bridge"crossing.
The back garden has a huge oak tree which was difficult to appreciate with the dense surrounding vegetation. The removal of a lot of this planting and its replacement with lower, mass-planted ground-cover species gives the old oak tree the respect it deserves and has also greatly enlarged the back garden space.
The deck for the ?Lujo? hammock in the back garden is mobile so it can be moved around the garden to suit the seasons and the growth of the trees etc. The whole garden is designed to cater for a vibrant and active family so the outdoor spaces are all used as play areas and for relaxed family living.
Contractor: Red Tree Landscaping
Water Feature: John Calvert www.johncalvert.co.nz