Te Maire Park, Shannon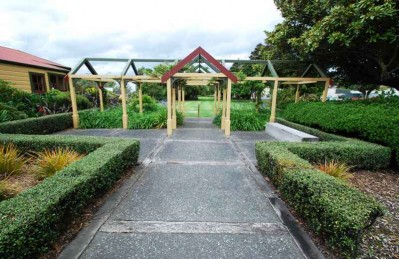 Shannon used to be a pretty forgettable little town – hard to believe now as the place has become such a delightful place, developing a country village atmosphere all it's own. The first step in this process was turning the windswept and inhospitable road reserve along the western side of the "main drag" into a park. Whilst the other side of the road had a few historic old buildings and shop frontages the "park" opposite was really just a straggly collection of mismatched trees, dominated by the railway yard beyond.
A huge effort by the enthusiastic local community saw the planting and care of hundreds of native and exotic plants though this coridoor and the restoration and development of the historic (but semi-derelict) Shannon Railway Station building. Formal gardens were designed outside the station as an entrance to the park, featuring a pergola structure detailed to complement and match the adjacent station building.