Waikanae Woodland Drive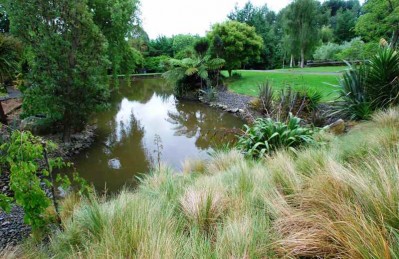 A mere 15 years ago these clients bought this property as a bare undulating-to-steep paddock and set about transforming it into a place where they could eventually live and retire to.
A house site was confirmed and a prefunctory driveway route drawn in by the engineer – straight from the gate to the house site with considerable cutting/filling of ridges and gullies etc. The clients wisely saw the shortcomings in this plan and asked me to come up with an alternative.
I was immediately struck with the potential for the experience of driving through this beautifully 3-dimensional landscape, especially as the owners had expressed an interest in creating a series of ponds in the lower parts of the property.
There were some small remnant bush areas remaining and a quite a few scattered Kohekohe trees in the paddocks so these were fenced off from grazing and planted around to create dense, lush forested areas.
The driveway design meanders around the hills, down though a couple of shallow gullies which were crossed with culverts, and up past the ponds created with dams and some excavation. Areas along the route were set aside for paddocks, an olive grove and a tennis court.
The only negative aspect of this lovely site was the very busy – and noisy – main road below, so a considerable band of planting was planned for the lower boundary to provide a dense buffer zone.
The owners camped in the garage for several years as they began the planting of thousands of trees which now thrive on this beautiful property. The growth has been spectacular and the development of the landscape is now more a matter of guardianship, selective removal of the initial shelter species and the sensitive management of the planting as it continues to mature.