Treetops Pool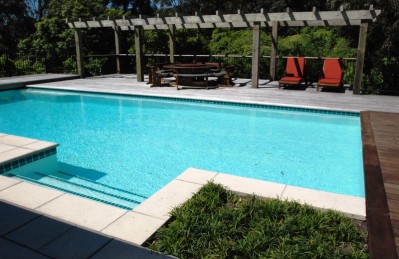 These clients love space! The problem was that the best, most sheltered part of the garden – and the area best connected to the house – didn't look big enough for their taste. The lawn fell away into a small gully only a few metres from the house.
I have always loved those tropical treehouse type designs which have decks, complete with spas and pools, suspended in space and surrounded by the tree canopy. I suggested we could do a similar thing here, and they eventually agreed.
The pool is built as far away from the house as possible, but still with the base (2 metres down) on solid ground with the far side built up against a retaining wall. The deck extends the space on three sides of the pool (one end housing the pool cover)and the main sundeck is suspended out over the gully woodland area and into the tree canopy. This has worked extremely well and has created a unique, sunny, and of course spacious pool environment. Views into the gully planting and out into the valley are made more dramatic by the elevated viewpoints now available and are framed nicely by the boldly proportioned pergola.
Pool fencing, always something I try and minimise, is restricted to the house corners, with the pool periphery defined witth the deck handrail, changing room and the house itself, which has the required safety fixtures on all the doors. Any exposed pool fencing is set in planting which will, in time, make it much less visible.
Planting is still getting established but will in the next few years become a dramatic feature. Sub-tropical, bold foliage and low maintenance were the key requirements.