Resort Style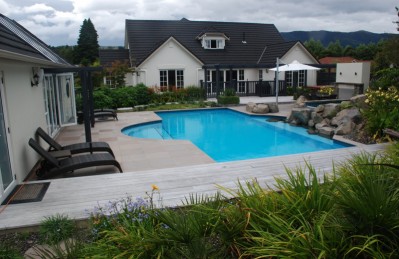 The American-style woodland garden is the inspiration for this garden. The client?s love of this style fortunately fitted well with the climatic conditions of this site ? reasonably sheltered with cold winters and warm summers.
The brief was to create ?a resort in our back yard?! So a pool, poolhouse, tennis court and spa were included as well as the complete layout of driveway, entrance, vege gardens, lawns, woodland walkways, boardwalks etc.
The seasonal change in this garden is spectacular and will continue to improve as the garden matures. The client?s love of conifers was also catered for and the effect is very successful with the contrast between solidity and transparency of foliage and form.
The client says:
?Rebecca has helped transform a farm field into a beautifully classic garden that is a joy to be in. There are different zones to enjoy that blend with a pool, a tennis court and a welcoming front entrance. What made this project such a joy to work on was that Rebecca took a brief, did the research, enhanced the vision well beyond what we started with and oversaw the implementation with impeccable attention to detail. She was mindful of the budget and supported her recommendations with intelligence and experience.?
Adam Blackwell
Contractor: Andrew Skelton, Skelton Landscapes