Waikuku Woodland Garden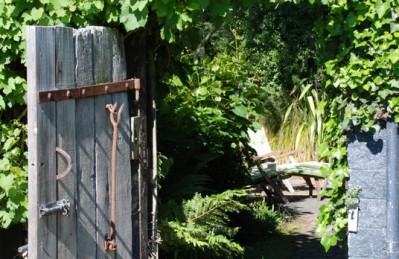 This garden, owned by my parents and the first garden I ever designed, is an informal, rambling country garden in which I have learned a lot.
The budget has always been tight but this has worked to our advantage in that the use of natural, low-cost, local materials gives an informal, handcrafted character to the place. The courtyards are entirely paved with free broken pavers, collected by the trailerload as they accumulated at the factory. Woven willow screens make a welcome change from the usual trellis, and ornamental grape and wisteria add seasonal drama.
Part of the charm of this garden lies in the way the materials have aged so gracefully and the seasonal moss, leaf fall etc add greatly to its restful personality. Native planting in the more exposed areas of the garden adds textural interest and a dramatic theme change.
Low maintenance mass-plantings help to reduce the amount of work involved in keeping this garden, but although it appears to look after itself there is a lot that goes on "behind the scenes". It is a constant challenge to make good decisions about what to allow to grow, what to remove, and generally how much to intervene. Like all good gardens this is a classic example of one which grows more beautiful with age rather than looking like it is badly in need of a "makeover"!